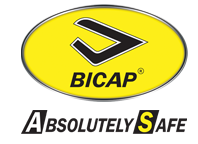 The Shoe Factory BICAP was founded in 1979 by Giuseppe Battaglia, based on his extensive experience in the shoe industry acquired in a previous company that he managed with his brothers and specialized in the marketing of women's sandals. .

In the years that followed, and more precisely in 1989, the five children of Battaglia created the Footwear Factory 5BI, a dynamic company that they still manage brilliantly today, recovering the functions of reference partners. The challenge faced by the head of the family is revived following a path that began many years before, always focused on quality, innovation and the constant search for perfection, giving life to a new and modern reality represented by the brand. of origin BICAP.

The first years of activity of the 5BI Shoe Factory focused on the production of sports shoes, hiking, après-ski, football boots and indoor football.

For more than 10 years, it has been decided to diversify and invest by concentrating the activity on the production of protective footwear, a sector - that of safety - requiring thoughtful management and continual projections to the future in the future. modern technologies and the training of highly qualified personnel.

The 5BI Company is today more than ever recognized as a company at the forefront in its sector. Its products, appreciated on a vast market for their comfort and their innovator character, are studied and realized to answer the highest quality standards.